Trinity Landing's resort-style amenities and beautiful location have been turning a lot of heads since our introduction in 2017. Between the warmth of southern hospitality, the stylish design of the residences, and the accessibility of the coastal activities, anticipation for the official opening in 2022 is at an all-time high! And now, Trinity Landing has added 45 new residences to meet the growing demand!
That's right! If you thought it was too late to reserve a residence in the Trinity Landing community, there are now 45 new apartment homes to reserve! These homes come in a number of different styles and floor plans*, but a few things will remain consistent throughout.
What every apartment home will include
Each apartment will be spacious, comfortable, and completely maintenance-free. You can leave all the stress and tedious housework behind when you join Trinity Landing. Additionally, each home will have a patio or balcony where you can relax and enjoy the gorgeous coastal scenery.
Every apartment home will have a kitchen, dining area, and a living room so that entertaining grandkids, neighbors, and friends will be a breeze. Lastly, each apartment home will have an indoor path that leads directly to the Town Center so that, in case of bad weather, you can access the amenities with ease.
New residences
Of the 15 different styles of apartment homes, Trinity Landing will be adding five. The first is the Pamlico, a one-bedroom apartment with 870 square feet of space. Trinity Landing will build nine additional Pamlico apartment homes before the 2022 opening.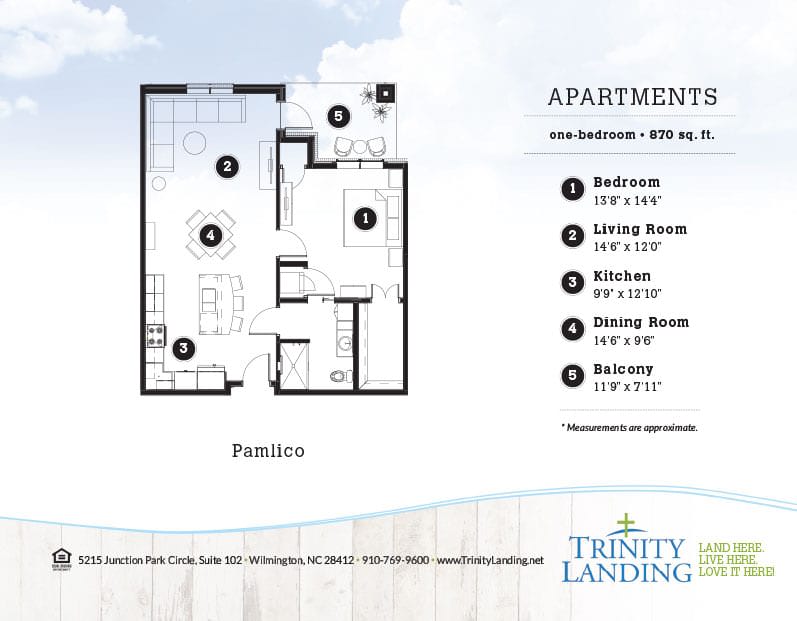 The second type of apartment that Trinity Landing is adding is the Ocracoke apartment home. Boasting an impressive 1,070 square feet, the Ocracoke apartments are a one-bedroom with den floor plan. Whether you are spending time with friends or alone, the den will offer coziness and variety to your lifestyle. Before the opening in 2022, Trinity Landing will add nine additional Ocracoke apartments.
With 12 new residences, the Currituck apartment style will receive the biggest increase. Currituck apartments contain two bedrooms and 1,310 square feet of space. With so many new Currituck homes, there is now a big opening for interested parties to reserve a spot before it's too late.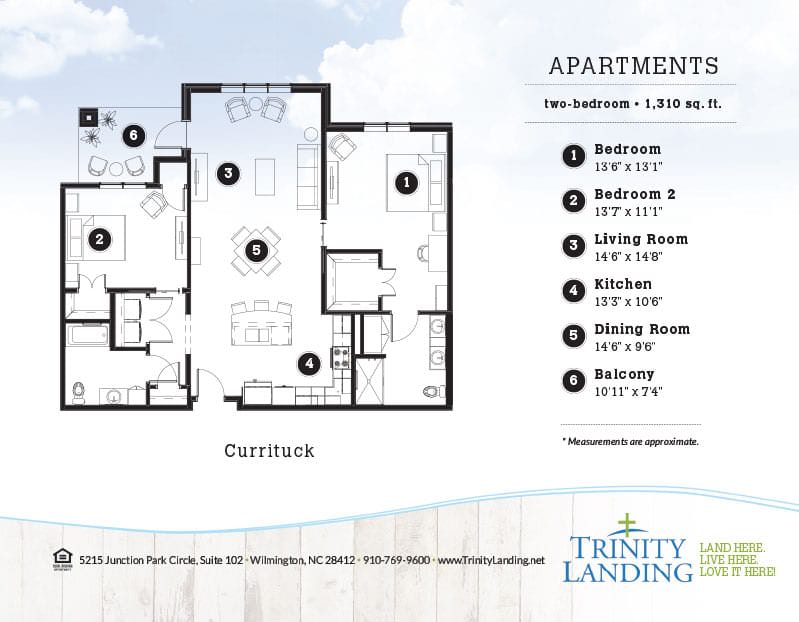 The fourth floor plan to receive a boost is Roanoke II, which will have nine additional apartments. With two bedrooms and 1,410 square feet of space, the Roanoke II homes will be some of the largest of the new residences.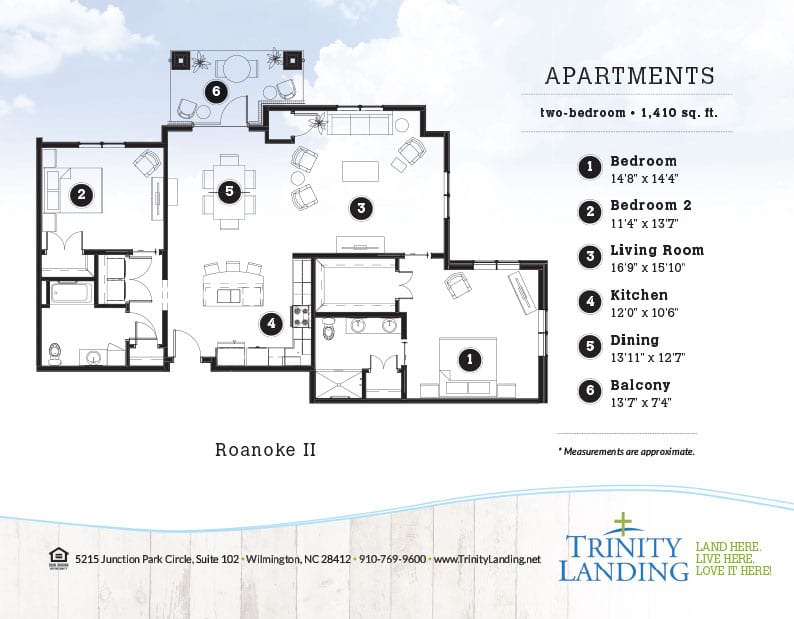 The final residence to grow in number is the Beaufort style apartment home. Beaufort apartment homes have it all. Each home will contain 1,640 square feet including two bedrooms, a den, and a separate dining room. With plans for six more apartments, Beaufort apartment homes will offer residents an unparalleled level of comfort and spaciousness.
Don't miss this opportunity to reserve homes while they are still available! To learn more about Trinity Landing, click here to request a free info kit or call 910-769-9600.
*floor plans are subject to change