As you are planning your ideal future, imagine the kind of lifestyle you hope to live. Do you see yourself starting your days taking in scenic waterfront views? Will you have a social calendar filled with festivities with friends? Perhaps you envision spending time outdoors, enjoying your natural surroundings, or touring nearby Wilmington.
Your vision for the future isn't a far-off fantasy. It's exactly the lifestyle you'll enjoy at Trinity Landing. Residents will enjoy brand-new amenities like outdoor walking paths, a restaurant and pub, Wellness Center, salon and spa, and more—all while enjoying a maintenance-free lifestyle.
Your life at Trinity Landing will center around your modern apartment home or villa, fully customized and decorated by you. And, with a choice of 22 floor plans, we're confident you'll find one that matches your vision.
Rejoice in a Roanoke
If you're looking for a spacious two-bedroom, two-bathroom apartment home, take a look at the Roanoke residences at Trinity Landing. Ranging from 1,390 – 1,470 square feet, all Roanoke residences offer outdoor and indoor living space as well as two bedrooms and two bathrooms separated by common areas for additional privacy.
The Roanoke I features an enclosed dining room off the kitchen, allowing for a more formal dining space to complement the casual breakfast bar in the kitchen. In this residence, you'll also find that both bedrooms feature walk-in closets, offering an incredible amount of storage.
If you're looking for a large, open concept living space with a connected kitchen, dining area, and living room, the Roanoke II is a great choice. Regardless of where your guests choose to converse, you'll be part of the conversation whether you're preparing a meal in the kitchen or relaxing in the living room.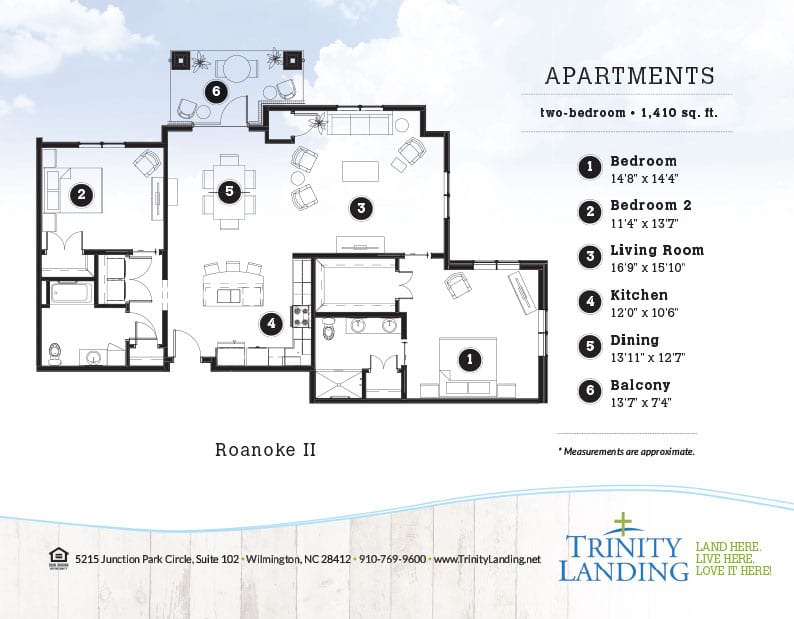 The Roanoke III offers the largest balcony of the four. At 125 square feet, there's room for both a small bistro set and a set of Adirondack chairs, making it perfect for private dinners al fresco, morning coffee, and evening cocktails!
If you would prefer a bit more space in the bedrooms, the Roanoke IV is a great choice. And, with the slightly different layout in the master bedroom, a perfectly sized nook will become your new favorite place – whether that's a comfortable reading chair, a dressing vanity, or a space to display some of your favorite collections.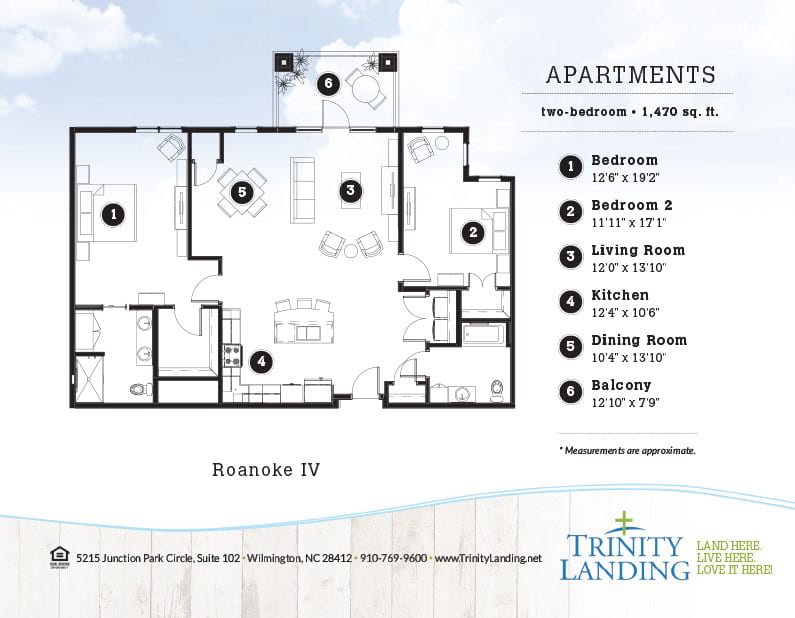 Whichever Roanoke you choose, you'll be free to enjoy your new home and the community amenities without the burden of maintaining them. Thanks to the services included in your monthly service package, you'll no longer worry about sudden appliance breaks, unexpected costs, or tedious housekeeping. By leaving the work to someone else, you'll have more free time to enjoy every day along the Intracoastal Waterway and local beaches.
Take the first step toward making a maintenance-free active lifestyle part of your future. Give us a call at 910-769-9600, or visit us online to get your free information kit. We look forward to meeting you!