There's a reason home design and decorating shows like Fixer Upper and Love It or List It are so popular: Deep down we all have an inner interior designer eager to get into a fresh new space and make a house our brand-new perfectly decorated home.
So while there are a hundred reasons to fall in love with the excitement and peace of mind that come with moving into a brand-new CCRC, the idea of selecting finishes and decorating a brand-new modern home on North Carolina's charming waterfront tends to rank high among those moving to Trinity Landing—especially once people see our stunning floor plans!
Each of our 22 beautifully designed floor plan layouts will offer an airy and modern feel with a built-in sense of that relaxed waterfront comfort. Best of all, residents will have the opportunity to select and customize their newly constructed residences. Many of Trinity Landing's future residents are already in the selection process and say this is one of their favorite parts!
We have several floor plans for you to explore so we're excited to show you a few favorites thus far, but we look forward to connecting with you soon so we can show you even more!
The Manteo
The Manteo comes in two different, but equally stunning, floor plan options, and both are a favorite for being among the roomiest apartment homes that Trinity Landing has to offer. With two large bedrooms, two sizable walk-in closets, two full bathrooms, a den, and a balcony where you could serve dinner for 10, this stylish apartment home is sure to make you feel like you're living the dream every day.
The Roanoke
This spacious two-bedroom, two-bathroom apartment home offers open and inviting living space that is a hostess' dream. From the kitchen you can remain engaged as you entertain and your guests soak in the North Carolina view from the charming balcony, situated just off the great room. And better still—each bedroom features a gigantic walk-in closet that is a must-see.
The Roanoke also features a classic dining room just off the kitchen, allowing for a more formal dining space for those special family occasions. It's certainly the perfect complement to the casual breakfast bar in the kitchen.
The Pamlico
This one-bedroom apartment home is just the right amount of space for someone looking to live that independent, fancy-free life.
From the moment you enter the front door, you can see across the entire open-concept living space, all the way to the bright windows on the far wall. The Pamlico's large, open feel provides a perfect place for hosting friends and family.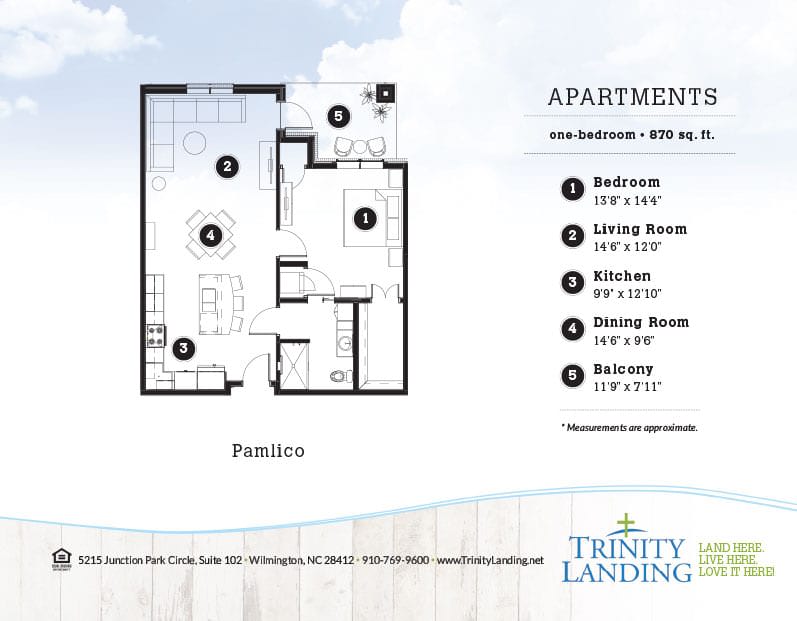 The Rodanthe villa
The Rodanthe villa has a truly gorgeous layout. In this cozy-but-breathtaking home, natural sunlight pours through the main balcony doors and offers a view to the nearby maritime forest and professionally tended landscaping. It also offers a private balcony off the main room and balcony access from the guest room—talk about something the grandkids will love!
With ample storage space (oh my goodness, the size of these closets!), an absolutely beautiful updated kitchen, and a connected great room, this beautiful home is sure to check every box on your list.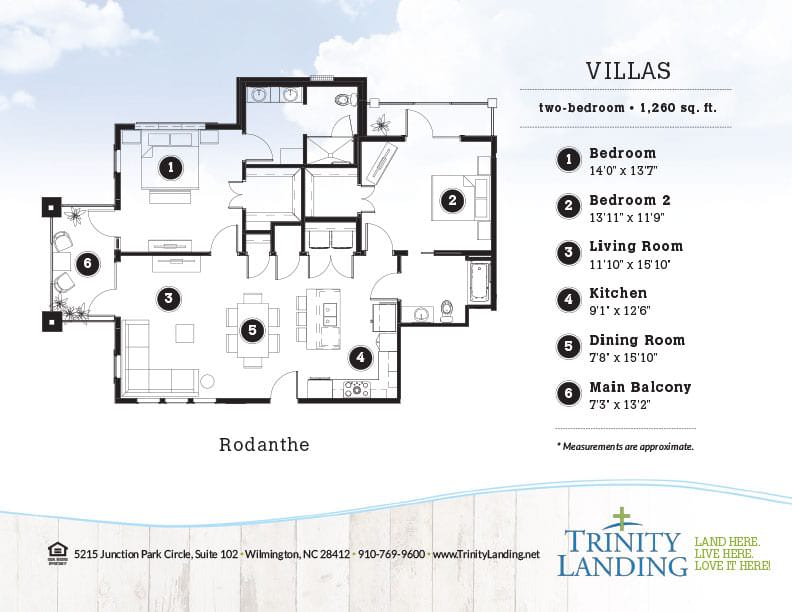 The Hatteras villa
The Hatteras villa homes will be located toward the back of each group of Trinity Landing's villas, providing additional peace and privacy for those who prefer to be tucked away. The gorgeous open floor plan includes two large bedrooms, each with full walk-in closets and two huge bathrooms. The Hatteras villa even has two large balconies so that you can always have a place to relax, soak in the salt air, and admire the beautiful views of the Intracoastal Waterway.
This villa has all the space you need and more to host family and friends, pursue (even messy) hobbies, and relax before or after a busy day in the community.
We've written about several other floor plans as well, so we encourage you to browse and read about a few more below!
Would you like to connect and come in for a safe visit? Don't wait! You can now schedule a private visit to our sales site, or call us today at 910-769-9600 for more information on spacious and coastal-inspired residences like the ones we reviewed here today!
_________
Check out a few more of our floor plan features: